HOME - What is sport-tipsters.com ? How to use it ?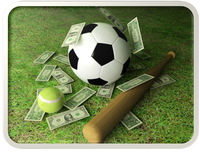 Sport-tipsters.com is a tipping company, provider of paid sport predictions and cooperation of sport tipsters and punters.
Sport-Tipsters.com was started to provide sport picks only for soccer/football in asian handicap, over under (total goals, totals), 1X2 or home/away. After a while we expanded our cooperation with many sport tipsters and now we cover over 8 sports.

Our main idea is to help punters beat the bookies. If you are one of those people that spends time with bookies but without any success (or low success), then this is the right place for you. Our sport tipsters are high-skilled, experienced and provide professional sport predicitons for serious customers.

It is important to note that we do not guarantee 100% accuracy (win on every game) but our success rate is high and you can increase your bankroll and improve your profit from bookmakers. We cover all major leagues and most of lower divisions for present sports at website and have significantly high winning rates from tips offered and an average of 1.85 return on daily payout games.


How to use our service
- We support Paypal and SKRILL (former Moneybookers).
- Our single sport prediction cost 77 $.
- Click on buy now and proceed. Process is very simple. If you do not know English try Google translate button.
Remember: tipsters have different ways to select games and create predictions. Do not try to guess the predictions by reading previous record because you risk your money.

Bet with total confidence and make sure you gain profits from it. That is very important too.
Do remember that Sport-Tipsters.com is a genuine professional tipping service. Our sport picks will never fail you. Our leads will have an added edge over the bookmakers. All tips will be available in the member's area from 09 AM on weekdays and Weekends and Public Holidays. All members receive notification on their e-mails.
For every sport there is fast livescore service for supplying live scores of today games, enchanced record of past predictions, few advices for wise money management, live matches online stream, sport news and strategies from pro-tipsters for better betting.

Latest sport picks
| | | | | | |
| --- | --- | --- | --- | --- | --- |
| Date | Game | Prediction | Odd | Result | Verdict |
| 21/03/2018 | Portland Trail Blazers - Houston Rockets | Under 214.5 | 1.94 | 111:115 | Lose |
| 21/03/2018 | Utah Jazz - Atlanta Hawks | Under 209 | 1.94 | 94:99 | |
| 21/03/2018 | Tucson Roadrunners - San Jose Barracuda | Under 5 | 1.96 | 4:0 | |
| 21/03/2018 | Czech Republic U19 - Poland U19 | Czech Republic U19 -0.5 | 2.05 | 0:0 | Lose |
| 21/03/2018 | Romania U19 - Serbia U19 | Romania U19 +0.25 | 1.84 | 4:0 | |
| 21/03/2018 | Portugal U19 - Kosovo U19 | Over 3.5 | 1.9 | 5:0 | |
| 21/03/2018 | Unicaja - Barcelona | Barcelona +2 | 1.94 | 95:91 | Lose |
| 21/03/2018 | Anadolu Efes - Khimki M. | Under 164.5 | 1.94 | 73:85 | |
| 21/03/2018 | CSKA Moscow - Olympiakos | Over 165 | 1.91 | 89:81 | |
| 21/03/2018 | SKA-1946 - MHC Spartak | Under 4.5 | 2.08 | 2:0 | |
| 21/03/2018 | Hermes - Koovee | Over 6 | 1.87 | 4:2 | Draw |
| 20/03/2018 | Sacramento Kings - Detroit Pistons | Detroit Pistons -2.5 | 1.9 | 90:106 | |
| 20/03/2018 | San Antonio Spurs - Golden State Warriors | Under 206 | 1.91 | 89:75 | |
| 20/03/2018 | North Texas - Mercer | Under 140.5 | 1.97 | 96:67 | Lose |
| 20/03/2018 | Livorno - Siena | Livorno -0.25 | 1.87 | 1:0 | |
| 20/03/2018 | Lucchese - Viterbese | Lucchese +0.25 | 1.74 | 1:1 | 1/2 |
See also: